Back to top
Today, my friends, we're going to Change the World...
As the Drupal Association's Community Liaison, I'm probably supposed to spend my time talking about people in the Community but, today, I'm going to look beyond that.
I want to talk about the people who benefit from all the work we do: those people who have probably never even heard of Drupal but whose lives are transformed by it.
The speaker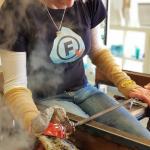 Drupal Association Community Liaison
After years in all sorts of industries - Education, Defence, Finance, Charities and Pharmaceuticals - Rachel discovered Drupal and worked as a site builder in the UK. Having spent time getting involved in contribution and mentoring others in contribution, she eventually took a position as Community Liaison at the Drupal Association this year.